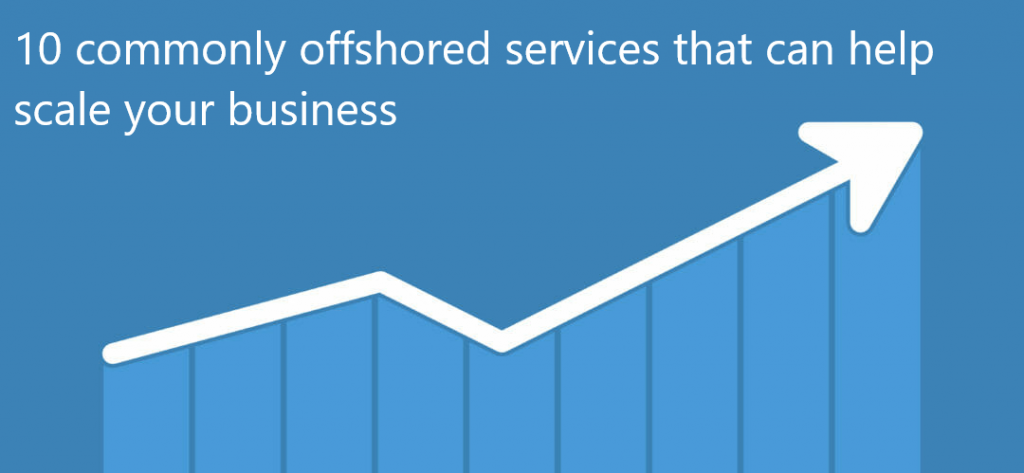 Offshoring business processes can today be considered a practice as old as time itself, with companies moving jobs outside their country as early as in the 60s. Presently, the offshoring industry reported a market size of $92.5 billion in the last year alone, as per fortunly.com. With increasing technological advancements and focus on remote working, a plethora of services can be offshored today. Here are ten such services:
1) IT Services
One of the more commonly outsourced business functions, offshore IT service providers focus on database and server management, from a remote location so that the client doesn't have to worry about hiring and maintaining an expensive IT team onsite. They can save on not just hiring costs, but also associated overheads relating to payroll and office space, while also being guaranteed 24/7 service of premium quality.
2) Drafting and Estimation
Another process that can be performed from a remote location to the similar effect as performing onsite is drafting. The offshore drafters have experience building blueprints and structural plans with the help of information provided to them, without actually having to be onsite. Another construction related service that is commonly offshored is estimation. Offshore estimators take information from their clients and prepare and provide estimates regarding raw material costs and other budgetary information, while working remotely.
3) Accounting and Bookkeeping
An important back-end process that is increasingly being offshored is bookkeeping and its related functions. Offshore bookkeepers have been trained and are qualified to deal with the finances of foreign companies and the restrictions and requirements that need to be adhered to. They perform auditing, accounts maintenance, financial planning, budget and cash flow analysis among other functions, to relieve the company from having to hire teams that perform the same functions onsite at higher cost, helping them save on money, time and effort.
4) Digital Marketing
Digital marketing refers to the use of online media spaces and outlets to promote a business and its product or service, generally at cost that is a fraction of how much money it takes to advertise traditionally. Another feature of digital marketing is that it can be performed by an expert working from a remote location, needing only an active connection to the internet. Offshore digital marketing specialists focus on using websites, email and social media as outlets for marketing, with special focus on lead-generation, branding campaigns and Search Engine Optimisation, proving the client with increased reach and visibility as well as greater cost benefits than hiring digital marketing specialists onsite.
5) Data-Entry 
One of the earliest functions to be offshored, data-entry operators working remotely can help input and maintain data related to customer and supplier invoices, purchasing orders, eCommerce product details, healthcare and medical details, as well as data related to accounting and documentation. Since routine taels like these can be performed very easily from a remote location, it is one of the more commonly outsourced functions, that can help free up onsite staff to perform more complex, profit-building tasks and activities.
6) Virtual Assistants
Virtual Assistants are increasingly becoming popular as C suite executives find themselves in need for assistance and help in managing and maintaining correspondence, calendars and undertaking project creation and research. Hiring a virtual assistant saves the employer the cost of hiring a personal assistant onsite, providing them with office space and resources like telephones and laptops. Instead, employers can reap the benefits of hiring offshore like cost savings and round the clock assistance, without added expense.
7) Executive Coaching / Sales Coaching
Sometimes, even employees at the highest level in organisations need help and advice. One of the most common ways that an organisation seeks to help a struggling executive is by hiring a personal coach who can help train and act as an advisor to the executive in real-time, enabling them to take better decisions, improve communication and manage top-level work pressure better. With increased use of video conferencing and communication technology, hiring executive coaches offshore offers organisation a more cost-efficient but equally effective option to helping executives improve performance.
8) Human Resource Management
Another process that is commonly outsourced is H.R-related functions like recruitment, payroll, compensation and performance evaluation, that doesn't necessarily require in-house teams to perform them, especially in smaller organisations with fewer employees or organisations that want to focus on hiring employees to perform technical functions. Hiring offshore H.R service providers ensures that important processes are undertaken in the background and grievances regarding pay and advancement are handled well, at a fraction of the cost of hiring a team onsite.
9) Recruitment 
Some organisations choose to offshore only recruitment to a third party to reduce hiring costs and the effort and time it takes to hire new personnel. Given the requirements and the job profile the company is looking to fill, these service providers approach and advertise the vacancies, screen and interview prospective candidates and short list them for the client to choose finally.
10) Customer Service
One of the functions associated most with offshoring, owing to its use in popular culture is customer service. Companies hire offshore personnel to handle this function to save on costs onsite, while also being guaranteed quality service, much like data entry offshoring. Offshore customer service executives are typically provided all the resources they need to deal with customer complaints or queries, so that they can handle these grievances smoothly.